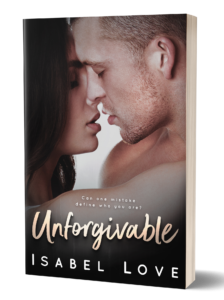 Title:
Unforgivable
Release Date:
4/26/2018
Genre:
Contemporary Romance
,
New Adult
,
Upcoming Releases
There are certain things that are unforgivable…

Falling for your brother's best friend is one of them.

That isn't the worst thing I've ever done, though.

Not even close.

 

Shame and guilt follow me everywhere.

Except when I'm with him.

 

With him, I can breathe again.

Smile again. Love again.

But he doesn't know what I've done...
It takes a village to have a successful book launch.  Release day sign ups are still open - I'd be so grateful if you could share the news.
4/26 - RELEASE DAY
Read the prologue: http://bit.ly/UnforgivablePrologue
Read the first chapter: http://bit.ly/UnforgivableCh1
Find an excerpt: http://bit.ly/WIPWednesday