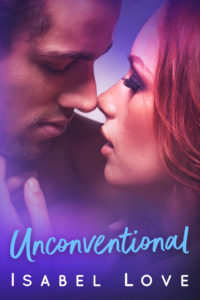 Title:
Unconventional
Release Date:
July 20, 2017
Genre:
Available Now
,
Contemporary Romance
,
Erotic Romance
I'm so excited to bring you Charlie and Quinn's story!!

*Synopsis*

Happily ever after—what a joke! I tried that once and ended up divorced.

Now, I only want one thing from men.

Charlie Nelson is good at giving me that one thing. Really, really good.

 

So good, in fact, I discovered a new side of myself.

I never knew I liked to watch until I saw his talented hands touching someone else.

I never knew I liked to be watched until I felt his searing gaze on me.

 

Maybe happily ever after isn't always a white picket fence, wedding bells, and 2.5 kids.

Maybe it's something a bit more…unconventional.

~~~~~~

This is a standalone erotic romance.

Warning: this is a dirty book. If reading about a dirty talking sexy man with a pierced penis, hot AF threeways and anal doesn't appeal to you, this book is not for you.

But if you like a story about two people who get a second chance at happiness, a story that happens to also be sexy, dirty, funny and (dare I say) a bit sweet, this book IS FOR YOU!!

Click here to read an entire chapter.
**EXCERPT**
"While I love the way you're staring at my cock right now, I'd love it even more if you touched it—preferably with your lips or tongue."
I look up into his face and see him watching me, muscles corded with tension, hands balled into fists at his sides. He towers over me like a Greek god. Some might think the man is in the position of power in this situation, but he isn't. I have all the power right now, and I want to drive him crazy.
"I think I like the idea of your cock being my canvas," I tell him, gripping the base of him. I lean in close and rest it on my face, loving the heat and weight of it on my cheek. He grunts at the contact, swiveling his hips to get more friction. Meeting his gaze, I position his penis just so, and land a purposeful kiss at the base, stamping my red lipstick on him. His eyes flare and he smiles, his dimple popping out on one side. Then I drag my lips up the side of the shaft, pulling the red color in a smeared line. I'm sure it's smeared all over my mouth, too, but I don't care. I place another kiss around the barbell on the top of his head, stamping my lipstick around his piercing. My tongue sneaks out to touch the piercing as I do this, unable to resist pushing on it in the process.
A hasty, "Fuck," is my reward, and the sound goes straight to my clit.
I sit back and admire my handiwork. The sight of his penis with red lips at the tip and the base with lipstick smeared down the side should look ridiculous, but it doesn't. We both groan in appreciation and I need more.
Before my tongue touches his tip, he reaches down and angles my chin up, inspecting the mess my lipstick made on my face, I'm guessing. "This is a good look on you, Red. If I could take a picture, I'd title it Debauched."